Virtual reality started making fresh headlines in 2014, when Facebook made a $2 billion acquisition of Oculus VR. Now Google Inc. has ramped up its "VR" game by focusing Clay Bavor, vice president of product management, solely on virtual reality.
As Wall Street tries to calculate the possible impact on a number of industries, Goldman Sachs Group has put forth some charts laying out its assumptions for what it believes will be an $80 billion market by 2025.
Here's what caught our eye.
The first chart looks at how the virtual reality and augmented reality business will fare when compared to the adoption process undergone with smartphones and tablets. Goldman believes it will take a while longer to see such adoption, but "as the technology advances, price points decline, and an entire new marketplace of applications (both business and consumer) hit the market, we believe VR/AR has the potential to spawn a multibillion-dollar industry, and possibly be as game changing as the advent of the PC," the analysts noted.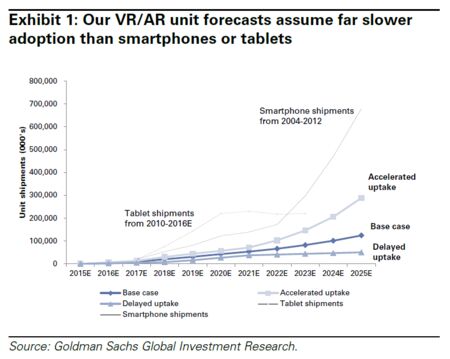 2. Market size depends on the uptake
The second chart shows how the analysts get to that $80 billion number for industry revenue. The team at Goldman, led by Heather Bellini, looked at possible uses, their "volume adoption framework" and future pricing. The base case is for $80 billion, while the "accelerated uptake" scenario puts the market at a whopping $182 billion.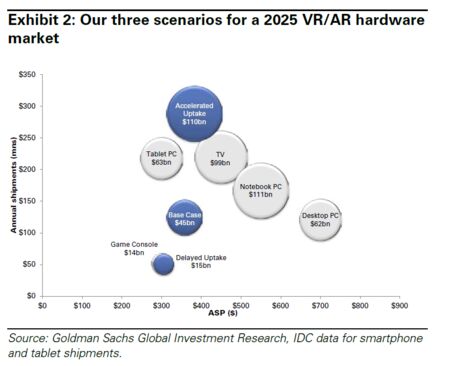 3. Virtual reality could be used for these functions
Goldman has nine areas in which virtual and augmented reality can be used, ranging from video games to retail. While video games make up the largest portion, everything from health care to real estate could experience disruption.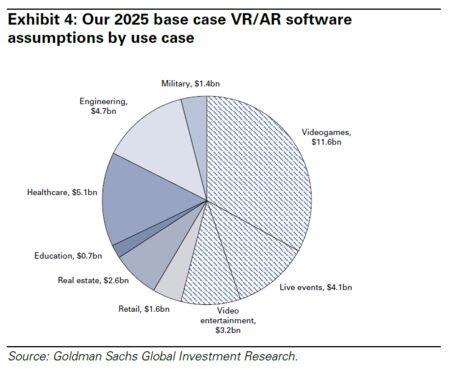 4. The price of head-mounted devices (HMDs) is expected to fall
Last, prices typically fall as technology progresses. This is key for hardware adoption, Goldman said, so it looked at how the cost structure might look in the future. "We found that major hardware devices have experienced pricing declines in the range of 5-10 percent annually over the past 20 years," the team said.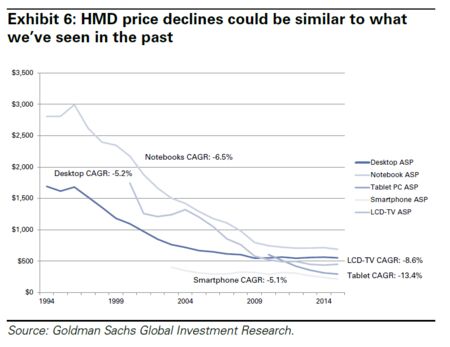 Goldman isn't the only firm publishing virtual reality research this week, Macquarie Bank also sent out a note to clients about the future of this business.
"We continue to believe that VR/AR is poised to be the next computing platform. And like the transition from desktop to mobile, it will be disruptive. …The first half of 2016 will see the most significant progress on VR/AR ever," Analyst Ben Schachter wrote in the note, published on Wednesday.
The analyst says he has been sampling some new virtual reality products and has come away even more optimistic on the market. "We have been fortunate to be in the relatively unique position of having tried the latest versions of almost all known devices. And while each has its pros and cons, it is clear that progress is being made," he said.
Written by Julie Verhage julieverhage
Bron: http://www.bloomberg.com/news/articles/2016-01-13/goldman-sachs-has-four-charts-showing-the-huge-potential-in-virtual-and-augmented-reality
Deel deze informatie...